It's crazy how communities come together through celebration. All of heaven is still celebrating and worshipping Jesus for His triumph over the enemy, death, and sin.
All of the Angels in heaven celebrate when one person turns to Jesus (Luke 15:10).
Our responsibility is to bring heaven to earth, so let the celebration begin!
Nehemiah instructed the Israelites, who had just returned from bondage, to celebrate with great joy, while eating choice food, and drinking sweet drink (Nehemiah 8:10-12).
When we celebrate someone here on earth today, it includes bringing gifts, singing songs, giving cards, and eating great food (especially cake and ice cream).
When we give thoughtful gifts, and throw a great party, we honor and celebrate people, while gaining more access and connection to their life.
The Bible says, "A person's gift opens doors for him, bringing him access to important people (Proverbs 18:16)."
If we desire to touch those who don't know Jesus, we need to be creative and celebrate with the gifts we have.
Celebrating Unsung Heroes In Our Community
For the last 15 years, I have headed up various creative outreach groups in Bethel's School of Supernatural Ministry (BSSM) that celebrate people through creativity.
Recently, my team and I put on a large event celebrating "The Faces Of Redding" at the Sundial Bridge, which is known as the hang out center of Redding.
We lined the walkway towards the bridge with portraits of unsung heroes, who had sacrificed in their jobs, or volunteered to coach, educate, read to the elderly, or serve in some sacrificial way to make our community a better place to live.
My team and I had hung these portraits and bios of these unsung heroes at City Hall and now we were giving them to take their portraits home.
We invited these unsung heroes to meet us at the bridge to publically receive their portrait and bio that would forever remind them of who they are and their amazing contributions to our community.
Here are some photos of the day!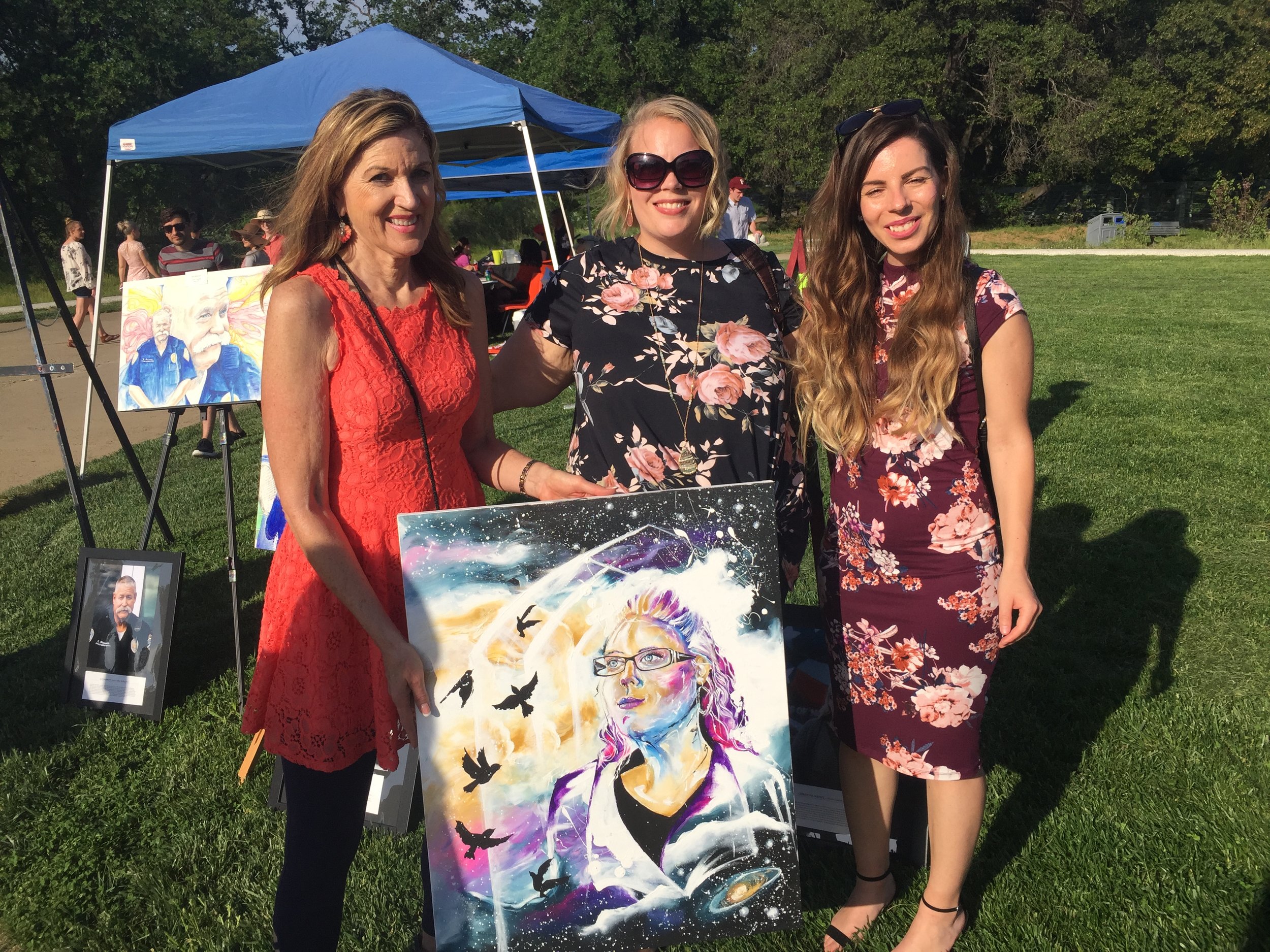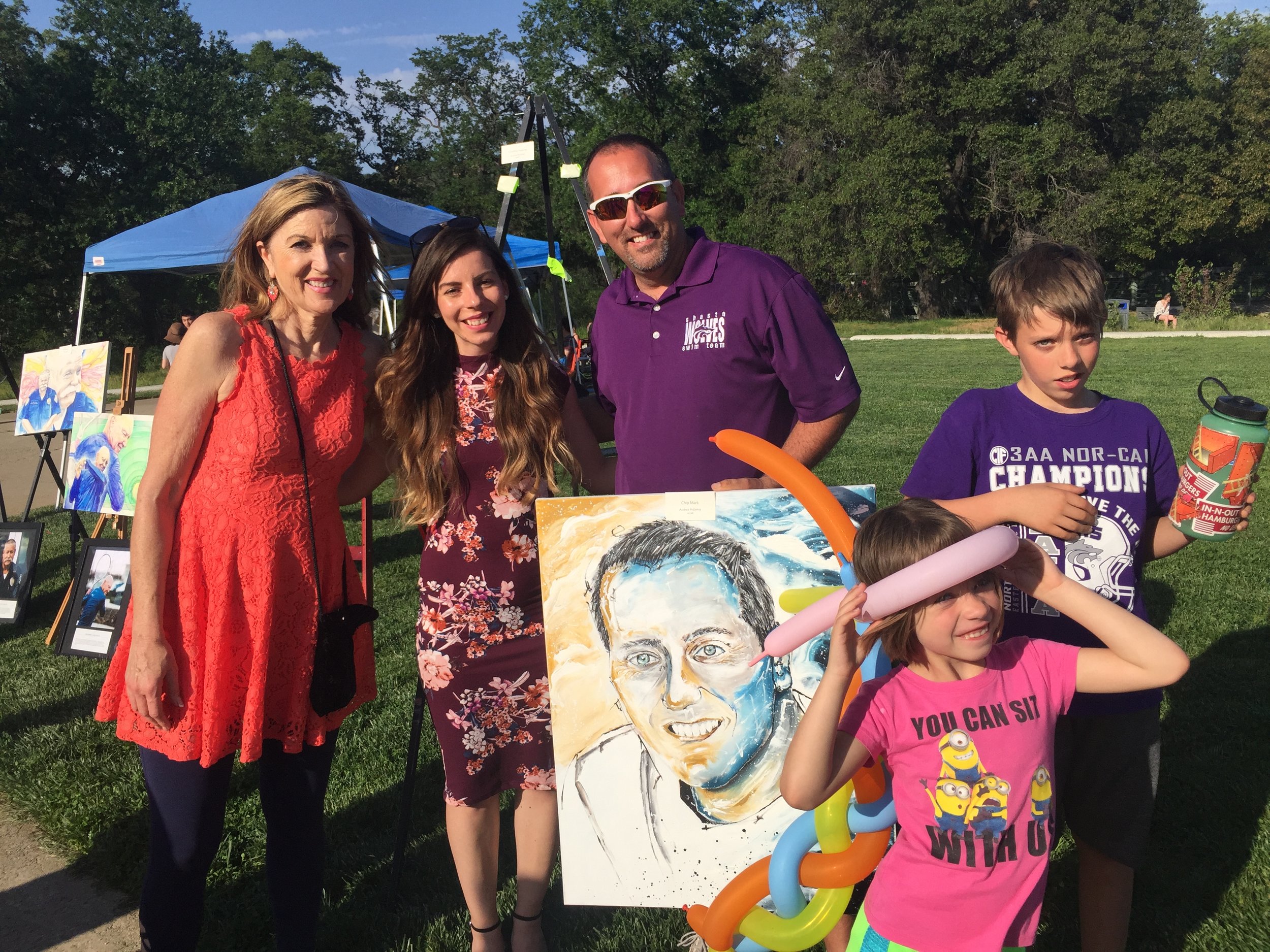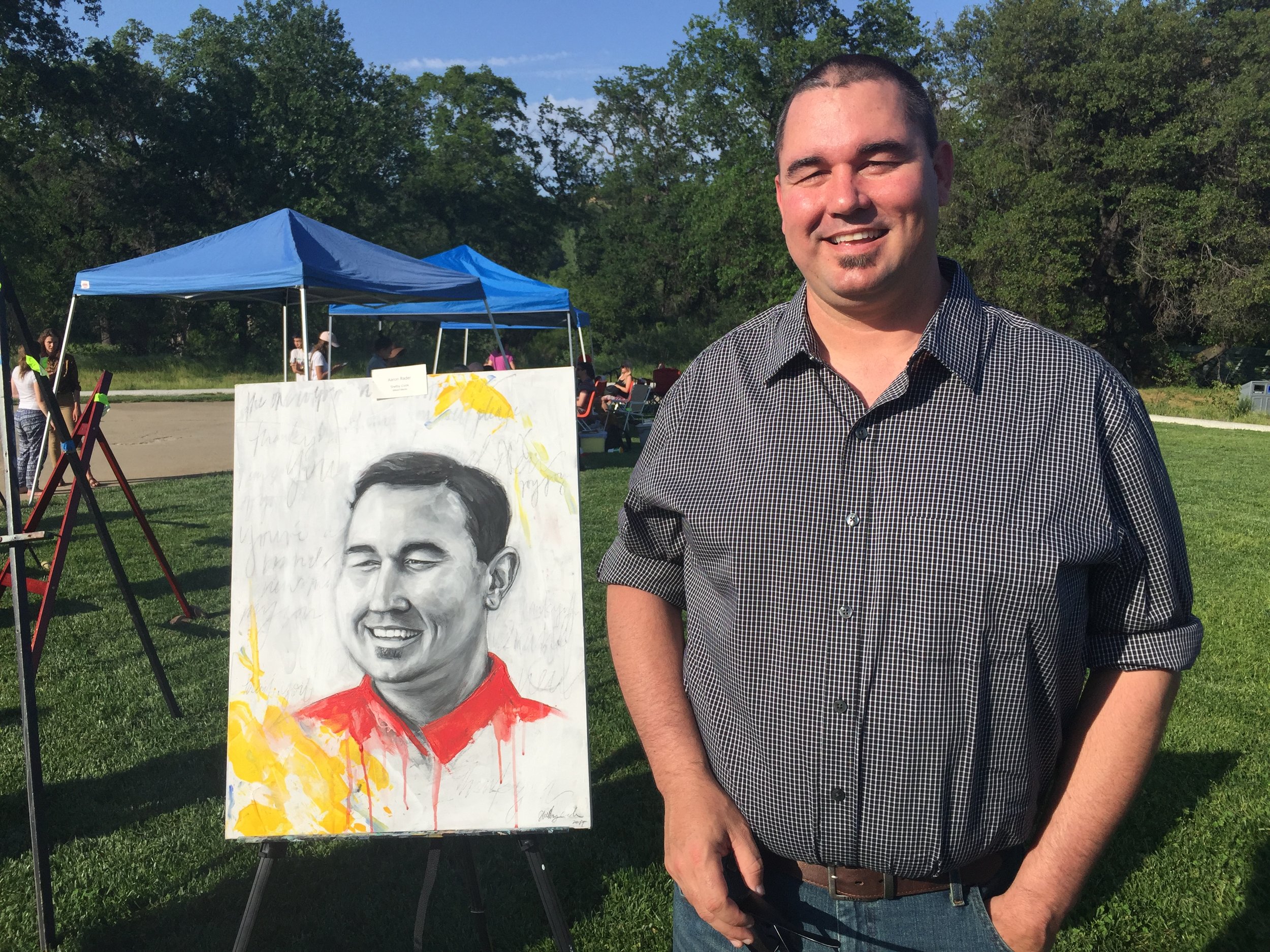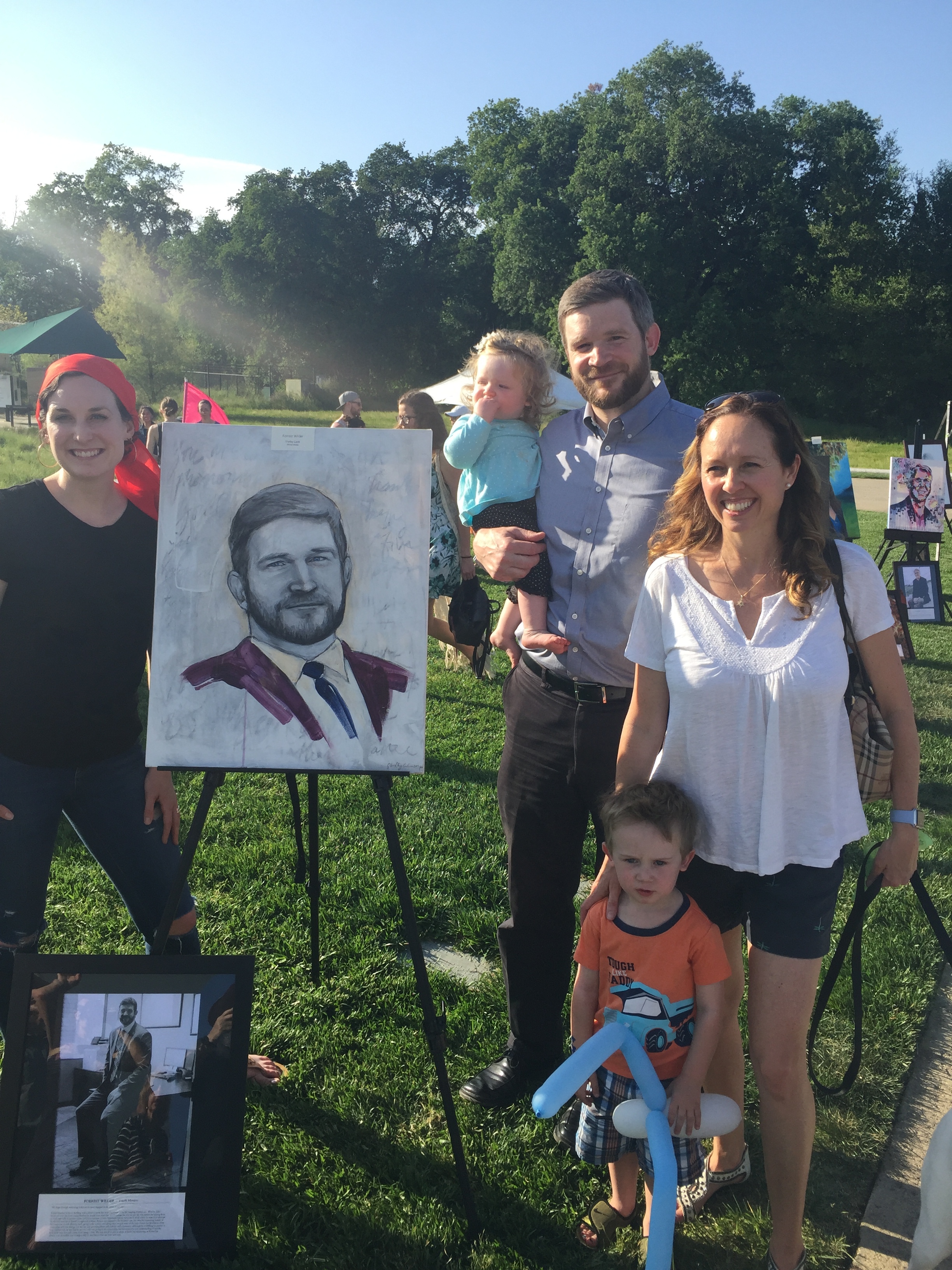 It was amazing to see their faces light up, as they were honored and celebrated in such a public and festive way.
Creating A Culture Of Celebration
There is nothing I enjoy more than a good party, whether it is with family, friends, church, our out in the community.
So, we didn't just pass out portraits to these unsung heroes in some glib fashion, but turned the event into a celebration that attracted people to attend.
My team set up different creative stations by the portrait exhibit, including live music, free portraits, prophetic ministry using photography, poetry, and art, face-painting and balloon animals for kids, and even clowns roaming around encouraging people to be happy.
We were able to minister to hundreds of people within a 3-hour period because we honored people in a culture of celebration.
We are exhorted to go and share with others the good news, and to freely give what we have been given (Matt. 10:5-8).
As people experienced our event, they were surprised at the way we were honoring people, and having so much fun doing it. It wasn't long before they were also sucked into our culture of celebration, and many had amazing God encounters, as we honored them, and expressed God's love to them through our creative expressions.
Changing Culture Through A Culture Of Creativity
Here are some testimonies from this event:
I approached two young women who were just walking around. When I asked if they wanted their portrait done, they seemed hesitant. After some reassurance that we were safe, one of our artists, Shelby, began to paint both of them on one page.
Her painting of them celebrated who they were, and communicated the way that God sees them. Afterward, I took a photo of them together, and they were so visibly touched as they exclaimed that no one had ever done their portrait, and that they were going to frame it and hang it in their house.
Our culture of celebration opened up the doors for us to prophesy over these girls, who would have never come to a church building.
I approached another couple, and brought them over to our art booth. As they received prophetic art, they commented that the paintings spoke directly to their past and current needs.
They then had their portraits done, and were amazed at the artist's perspective, and hope they felt as a result.
They started to cry, and said that for several years they had planned on going to our church at some point, but how on this day, God brought the church to them. They felt like our celebration event had been planned just for them.
One of our unsung heroes, who picked up his portrait, teared up and said that he was originally hesitant to have his portrait done, but when he saw it at the event, he felt like he discovered different sides of his identity that he had never known.
A few of my team wrote prophetic poetry, and created a Treasure Map to find people God wanted to touch at the event.
The team approached a woman who matched the clues on their map. After reciting their poetry to her, and sharing some words of knowledge about breakthrough in her family and business, one of the team members led her to the Lord, and she was filled with the Spirit!
In the middle of our event, a 75-member choir of Junior High girls from a distant city showed up to go for a walk on the Sundial bridge, wanting to stretch their legs while on their way to another city.
My team blasted them with prophetic art, kingdom tattoos, photography, face painting, and balloons, communicating how special each one of them were, and ministering the love of God to their hearts.
We talked to the choir director, and asked if they could perform. They had been so touched by what they had experienced that they put on an impromptu concert on the spot.
In the end, we had so many people prophesied to, healed physically, and encouraged by our culture of celebration that it felt like heaven had truly come to earth for those 3 hours.
Changing Your Community Through A Culture Of Creative Celebration
Everyone one of us have gifts to celebrate others. Who could you touch this week in your community or neighborhood, market, or work?
Your creativity gifts can be the bridge to celebrate those who don't know who they are or why they're alive. God wants to use you to bring heaven to earth in your community.
I am so glad that my team and I just said yes and gave away what we had. We left feeling way more blessed because we freely gave away what we had received from God so freely.
I want to encourage you to do the same.
So, let the party begin in your house, on your street, and in your community!
Remember, you are born to create!